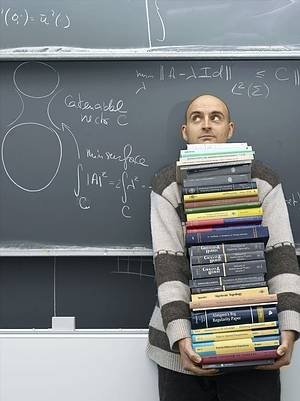 Thinking About Graduate Studies?
Please forgive this form letter as a reply but, as you might imagine, I get many such enquiries.
To start the application process, please go to this site.
To help you out, I list below some answers to frequently asked questions.
If the following does not answers your questions then please feel free to email me and I will do my best to reply to your queries.
Best wishes,
Tim Menzies
About Applying
American universities accept new graduate students for start-of-study in mid-August and mid-January.
The application process for those dates starts months in advance. You should be planning your application at least one year before your desired start date. I have no authority to accept students but, once they are accepted, I can supervise graduate students. So please review our admissions procedures at our departmental Web site.
That said, during the admissions review process, all faculty are sent a sheet listing the candidate students and I am allowed to "nudge" a handful of names. So if you elect to enroll here then please ping me so I can watch for your application in the system.
Tips for writing to Professors
When writing to a CS prof in the USA, here is some advice on how to attract their attention.
Do not send a form letter-- we get enough of those.
To prove that you are not sending a form letter, best to make some reference to their current research, perhaps even to one of their recent papers (and how your prior work or interests match up).
Demonstrate that you have done a little homework before sending and email about the department. E.g.
read over the department's recruitment policies and say things like "I am targeting an application for your next round of applications for (say) January 2016 which I will submit to ".
Working with me
As to me supervising you, I do not take on students until they have completed one of my grad subjects. This lets us check each other out before we commit too much to each other.
As to funding, I do not guarantee that my supervised students get funding from me. Funding comes and goes depending on the whims of the funding agencies and my policy is to fund my long-term Ph.D. students before anyone else.
That said, for your information, over the last decade, 75% of my students were fully funded.
---
Office:3298,eeII,map
Cell: 304-376-2859
Fax: 919-515-7896
Mail: Com.Sci., 890 Oval Dr, Raleigh, NC, USA, 27695-8206.
---
Apr2: New paper, IEEE TSE: Optimizing worker recommendations in crowdsourced testing More...
Feb2: Two journal-first papers accepted to ICSE'20.
Jan10: On walkabout in Western Australia for a month.
Jan 5: New IEEE Software Column '5 Laws of SE for AI' More...
Jan 3: New IEEE TSE paper 'Better data labelling' More...
Dec 20: New EMSE journal paper: 'Analytics from Multiple Projects'
Dec 19: Three of my Ph.D. students graduate: Jianfeng Chen, Amritanshu Agrawali, Rahul Krishna
Dec 15: Accepted to ICSE SEIP'20 'Assessing Practitioner Belief's' More...
Dec 10: New EMSE paper 'DUO=Data mining+optimizing More...
Nov 20: New DoD SBIR funding: Sail-on AI. $70K
Oct 10: New TSE paper 'Improving Vulnerability Inspections' More...
Oct 10: New LAS funding 'Fairness is a choice': $164K
Sept 30: New award: most influential paper award (from ICSM'09): 'On the use of Relevance Feedback in IR-based Concept Location' More...
Sept 30: New NSF grant: AI Workforce Empowerment, $950K
Sept 20: New NSF grant: 'Empirical SE for Computationally Science': $590K
Sept 10: New ESA journal paper 'An Intelligent assistant for finding relevant papers'
Sept 1: New funding from Facebook: Ethical by Design, $50K
Aug 1: New gift from Lexis Nexis: $120K
July 12: New NSF grant $499K, Mega-Transfer
July 12: Invited to editorial board, IST journal
---
My Books